Finding emails has never been easier.
Find corporate emails is time-consuming and difficult. We help you find emails, saving you tons of time so you can focus what matters: your business! Find more leads and make more sales.
Download Extension - free to try, no card required.
The email finder tool for busy people.
The fastest way to find corporate emails. Boost productivity with Find That Email.io, and simplify on finding emails. Find That Email.io helps you find their emails fast and enrich emails you already found. Get the power of a lead generation specialist, without paying their $100 hourly rate.
Find email by name
Find anyone's email based on firstname, middlename and lastname within seconds.
Example: john,doe,company.com >> john@company.com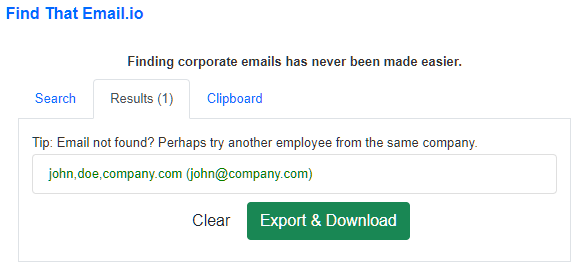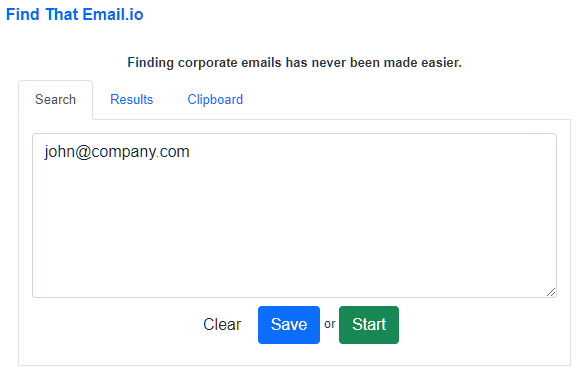 Or find name by email
Or do the opposite and find the person's name associated with that email to enrich, and send personalized emails.
Example: john@company >> John Doe
Clipboard
Save items for later use or boost your producticity by using LinkedIn to generate a list of employees from a company 'People' Tab!
 > Find out more from our Guide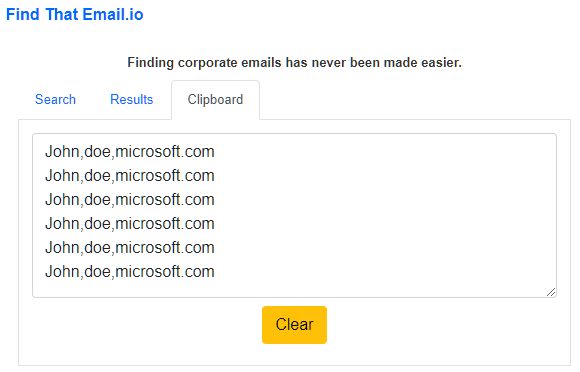 What our customers are saying
Don't just take it from us, let our customers do the talking!
"Loved it! If you want to get emails of people, you can use this service. So far so good."
"Get this product if you want to reliably get email address of professionals. Totally worth it!"
"Find That Email is a powerful email finder you should have. It helps you seamlessly find the corporate email addresses of a company's employees using their names. It doesn't stop there! You can actually find the full names of employees using just their email addresses. That's a win-win in my book! The steps detailed on the guide page, as well as the images added make it easy for newbies to use the tool. You'll be impressed!"
"This extension is a nice product to find emails. Enjoyed using it."
Ready to get started?
Start using Find That Email today and upgrade when ready.
Copyright © 2023 Find That Email.io

LinkedIn™ is a trademark of Microsoft.